Auto injuries from auto collisions can be devastating, and most involve many body systems – some without symptoms.
At our Sartell, MN clinic our team of specialists have handled more than 2,000 separate injury cases and are uniquely qualified to properly and thoroughly diagnose your injuries.
Williams Integracare is one of the most commonly recommended providers of services and care related to auto crash injuries. Our providers have advanced, post-doctoral training in factors that are unique to treating auto accident injuries.
COMMON AUTO INJURY SYMPTOMS
Neck pain – commonly caused by whiplash
Back pain – commonly caused by impact
Headaches – a potential warning sign of a concussion
Hip pain – noticeably when walking, running, standing up, or sitting down after an accident
Chest pain – noticeably when taking deep breaths in and out
Other aches and stiff joints – these should be checked out soon after an accident
WORK WITH OUR EXPERIENCED TEAMS
We can treat many of these injuries right here at our clinic. Our team of medical providers, chiropractors, and physical therapists are well-equipped to provide a complete care plan for auto accident injuries. Whether you need methods to relieve pain or more complex therapy to fix the underlying issue – our staff have the knowledge to handle it. 
There are some instances where a specialist is needed that we do not have on-site. In those cases, we also have access to a referral network of neurologists, orthopedists, neurosurgeons, and other specialists for the most comprehensive care.
Our goal is to put you confidently back behind the wheel!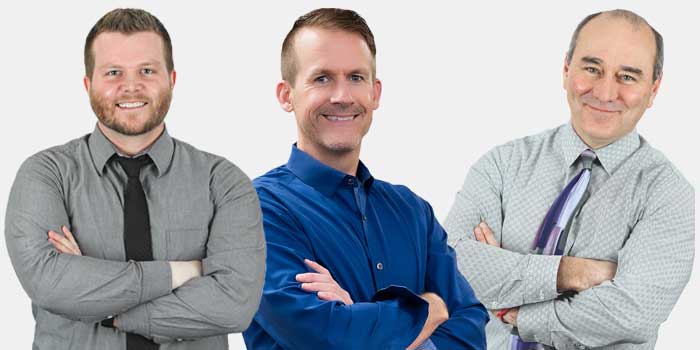 Due to the complex nature of auto related injuries, many patients visit our clinic to be evaluated by a chiropractor after a crash.
Chiropractors use a unique system of integrative medicine based on the diagnosis and manipulative treatment of misalignments of joints, especially those of the spinal column, which can cause other disorders by affecting nerves, muscles, and organs.
From left: Dr. Tyler Huberty, Dr. Ryan Granroth, and Dr. Michael Milabuer
While a chiropractor can work to start mobilizing your spine/associated joints and start the overall healing process, the physical therapist plays a crucial role in helping improve your joint, trunk and core stabilization through strengthening to facilitate further healing.
Physical therapy addresses the dysfunction or injuries that limit a person's abilities to move, perform functional activities, and address the best efficiency and body mechanics optimal for daily function.
From left: Jenn Garding, DPT, Brianna Hoffarth, DPT, and Dominic Turner, PT

For some accidents, patients see one of our family practice providers as well. They offer the care you expect from urgent care, as well as injections when necessary. 
From left: Christi Alvord, CNP, Eric Greene, CNP, Dr. Mark Halstrom, Jon Scheer, CNP, Kate Foley, CNP, and Shana Nelson, CNP
Request an appointment online. Submit your availability below and one of our friendly employees will contact you as soon as possible to offer you any available appointment times that fit your request. 
New to our clinic? You can still request an appointment online! Because we use the same EPIC/MyChart computer system as many other central Minnesota clinics, we may already be able to access your medical records without needing to complete any additional paperwork.
Phone: (320) 251-2600
Email: info@integracareclinics.com
Copyright 2022, Integracare LTD, All Rights Reserved. Information on this website should not be regarded as medical advice.