WELCOMING NEW PATIENTS IN SARTELL AND FOLEY
Discover central Minnesota's independent healthcare solution.
Williams Integracare in Sartell and Foley is your complete care solution! Integracare features three distinct departments: family practice, chiropractic, and physical therapy – all under one roof. 
Be more than a number – receive the quality of care you expect from a large clinic with the personable relationship that comes with a small business. 
Accepting ALL major insurance – call for details.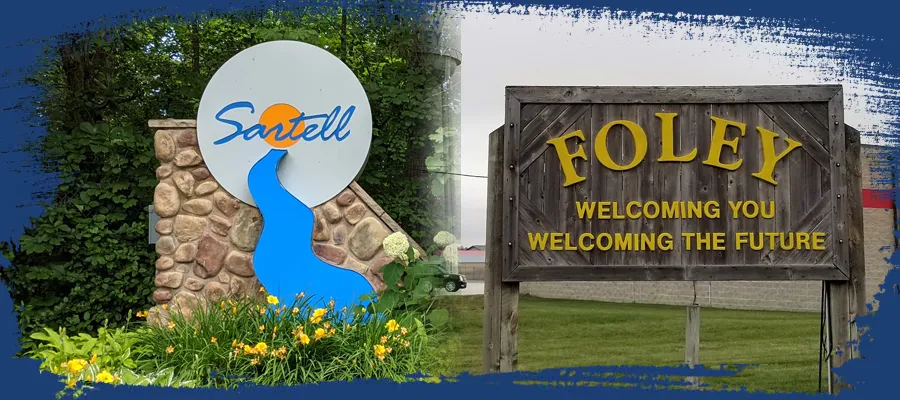 SCHEDULE TODAY - EXPERIENCE THE DIFFERENCE
Schedule an appointment with one of our family practice, chiropractic, or physical therapy teams today! Appointments are available in Sartell or Foley. Because our clinic uses the same medical records program as the St. Cloud Hospital (commonly called "MyChart"), we have access to any medical history you have at the hospital or many other local clinics – all without you needing to transfer any records. 
At Integracare your call is answered by a real person, rather than being greeted by an automated machine. 
Request an appointment online
MEET OUR FAMILY PRACTICE TEAM
Williams Integracare features seven caring and compassionate family practice physicians who see patients of all ages. All of our providers live and work in our central Minnesota community. We understand what matters to the families we care for each day and we would be honored to be your primary care provider!
As a family physician certified by the American Board of Family Practice, Dr. Halstrom is trained to handle everything from childbirth to senior care. While focusing on functional medicine as it relates to traditional family practice medicine, he can offer a broad range of medical services, prescribe medications/supplements, order tests, coach lifestyle, and perform surgery.
Dr. Halstrom has been a physician at Integracare for over 20 years and is trained in pediatrics, minor surgery, non-surgical orthopedics, and emergency care. Additionally, he has advanced his training and interest in medicine to focus on sports medicine and human performance.
Jon has been treating patients at Williams Integracare since 2011. He provides primary family health care and helps promote, maintain, and restore the health of families and individuals of all ages.
Jon is a Certified Nurse Practitioner through the American Academy of Nurse Practitioners. In the past, Jon worked as a paramedic and even taught in a paramedic school. As a Registered Nurse, Jon also has experience working in the emergency room, critical care, surgical recovery, and as a preceptor for students and new hires.
Outside of work, Jon enjoys spending time with his family and also serves on the Annandale school board.
Eric originally came to the St. Cloud area in 2004 when he attended St. Cloud State University and played basketball for the Huskies. He completed two bachelor's degrees in Biomedical Science and nursing from St. Cloud State, as well as a masters degree from Walden University.
Prior to Integracare, Eric worked in the Intensive Care Unit at the St. Cloud Hospital. Working in Intensive Care taught Eric something new everyday, but he enjoys the family practice setting because it allows him to make a difference in patients' longterm health, and perhaps prevent Intensive Care Unit admissions.
When not working, Eric enjoys spending time with his wife Missy, and two kids. He still enjoys playing basketball and often plays in local leagues and tournaments.
Kate grew up in Northern Wisconsin and has made her home in Central Minnesota for 20 years. She attended St. Cloud State University and received a degree in Social Work and Recreation Administration prior to pursuing a medical career. She has worked in various positions in the community, including the St. Cloud Children's Home and the American Red Cross. She enjoys traveling, camping, hiking, biking, canoeing, and exploring the countryside with her partner Lance and their 2 children.
Kate was a registered nurse at the clinic for over 9 years prior to furthering her education at Walden University to become a Family Nurse Practitioner. 
Christi was born and raised in the St. Cloud area and has lived in Sartell since 2003. She has spent over 20 years working in the healthcare field of which eight were spent working with the geriatric population. 
Prior to joining Integracare, she worked at the St. Cloud Hospital. This included time in Labor and Delivery as well as working in Quality Resources and Utilization Review with the Case Management teams. 
Christi takes a special interest in functional medicine, helping others heal from disease, nutrition counseling, and weight loss, improving overall health/well being, and gaining vitality. 
Shana has earned degrees from Walden University, Bemidji State University, and Hibbing Community College. She worked as an RN for over 18 years prior to becoming a Nurse Practitioner.
Prior to joining Williams Integracare, Shana spent seven years at St. Cloud Hospital working in the emergency department and post-anesthesia care unit. She has also served the community as a forensic nurse examiner for the Central Minnesota Sexual Assault Center and the Central Minnesota Child Advocacy Center.
Kelsey spent 5 years working on the medical surgical unit at Altru Hospital in Grand Forks, ND before joining the Integracare medical team. She is a graduate of Walden University where she earned a Masters of Science in Nursing with a specialization as a Family Nurse Practitioner. 
A native of northern Minnesota, Kelsey spends her free time outdoors with her husband and dog. The perfect weekend for Kelsey is spent on the lake fishing, relaxing, and reading a good book. She also enjoys playing volleyball, golf, and basketball.
Her interests include preventative health, women's health, pediatric care, sports medicine, and urgent care. We do our best to get you in to be seen when you need us! Give us a call to schedule an appointment for a recent illness or injury. Your annual wellness visit to check up on how you are doing! This is covered by most insurance plans (check yours to be sure). Our female providers take a personalized approach to women's health care – including discussions about hormones. The no-cost yearly visit for Medicare patients. If you never scheduled this visit in years past, be sure to do so this year. When it comes to your work injury, it's your choice what provider you see. Work with a provider that knows the work comp treatment process and puts the interest of the patient's health first. 
We also can be of assistance for...
Auto Accident Recovery
Well Child Visits
Vaccinations
Minor skin care (wart removal for example)
Intermittent Fasting/Time Restricted Eating
Imaging/X-Rays 
IPRO/Diabetes
Electromyography (EMG)
And more!
ACCEPTING ALL MAJOR INSURANCE PLANS
We know how important it is that your visit is covered by your insurance policy. Williams Integracare has contracts with all major insurance companies, including Aetna, Blue Cross Blue Shield, BluePlus, HealthPartners, Medica, Medicare, Medicaid, Preferred One, UCare, UMR, United Health Care, and more. 
Additionally, we also work with patients that use HSA cards or "sharing plans."
If you have coverage from a smaller insurance company or insurance group, call the clinic at (320) 251-2600 and ask for the business office for more details.
SCHEDULE YOUR APPOINTMENT
Get started with one of our providers today! Call to schedule (320-251-2600) or request an appointment online. 
Our clinic utilizes a shared medical record system with the St. Cloud Hospital. If you have previously been seen at the St. Cloud Hospital or another local clinic, we may already have electronic access to your medical records. 
At Integracare your call is answered by a real person, rather than being greeted by an automated machine. 
Request an appointment online
INTEGRACARE'S HISTORY IN SARTELL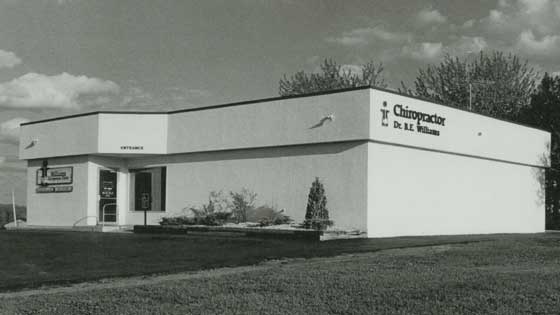 In 1981 Dr. Brownie Williams opened his chiropractic practice in Sartell, MN in a small office on 2nd Street South. After initially renting half of the building he was able to grow his practice and expand into the entire building. 
Dr. Williams explored the benefits of combined chiropractic and physical therapy care in the 1990s. During this time he created a satellite clinic on Northway Drive in St. Cloud for the purpose of providing physical therapy care for his patients. 
In 2001, after the continued expansion of his practice, Dr. Williams opened Williams Integracare Clinic – constructing the building in the parking lot of the original chiropractic clinic.
At this time Dr. Mark Halstrom was brought in full time to serve as the clinic's medical doctor for the family practice department. 
This larger clinic allowed for all three specialties: family practice, chiropractic, and physical therapy to operate in one location as it does today.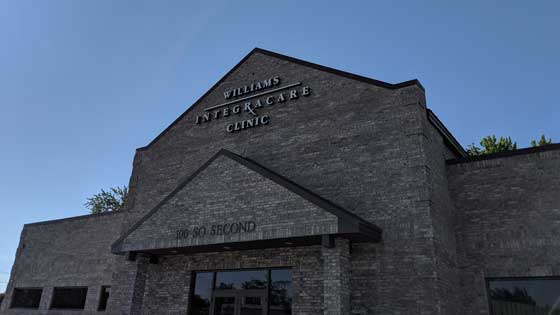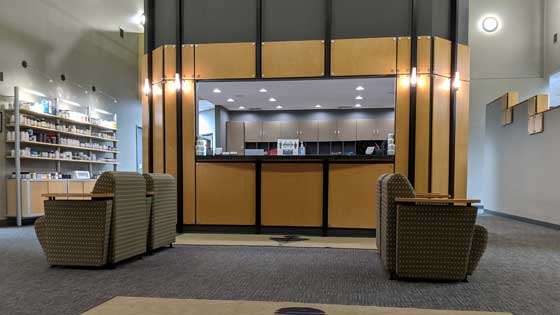 For over 40 years Williams Integracare has been serving patients in Sartell. Our clinic continues to expand to best meet the needs of our patients. We now have a team of 13 Sartell providers across our three core specialties. 
Additionally, we opened a new location in Foley, MN in 2022 as a way to bring our caring approach to health care to a new community. 
At Williams Integracare you can count on being treated as more than a number!
REQUEST YOUR APPOINTMENT NOW
Enter your information and one of our schedulers will reach out to you with available appointment times. Do not want to wait for a call back? You can call us at (320) 251-2600 to setup your urgent care visit now. 
Phone: (320) 251-2600
Email: info@integracareclinics.com
Clinic Hours: M/W 8am-6pm & Tu/Th/F 7am-5pm
Copyright 2023, Integracare LTD, All Rights Reserved. Information on this website should not be regarded as medical advice.