Fall brings cooler weather and some fantastic sights, making it a great time to go mountain biking in Minnesota!
With the start of Fall just around the corner, our employees shared their favorite trails from around the state of Minnesota! Our list is not ranked in any particular order and as usual, we remind you to wear a helmet for your safety.
Cuyuna Bike Trail (Ironton, MN – Course Map here)
Cuyuna comes highly recommended by a handful of Integracare employees. The course is primarily known for its mountain bike trails but Kate Foley APRN, CNP, reminds us that there is also a paved trail, making it a great option for the entire family. The weather will not even hold you back from biking Cuyuna as fat tire mountain biking is available in the winter.
The trails also offer jogging and hiking however bikers always have the right away. In the winter cross-country skiing is also allowed though limited in where skiers have access.
Before making the drive up to Ironton, take a look at the course conditions via the trail Twitter. Also, the Minnesota DNR offers an online tour of parts of the recreation area on their website.
Bunker Hills Regional Park (Coon Rapids, MN – Course Map here)
This Coon Rapids campground has a lot to offer – bike trails, golf, disc golf, hiking, and a playground. Nurse Jody often camps here with her family and enjoys the largely paved trail and the hills that accompany it. The course also features a floating water bridge that you bike over as part of the course. Jody even had a great picture that she took on the bridge as a storm was coming in.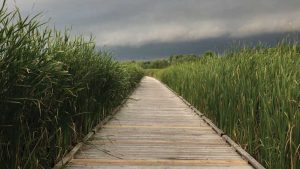 You will be able to catch some great sights on this diverse course as the scenery transitions from woods to prairie to oak savanna along the journey. With connections to Central Anoka County Regional Trail, Coon Creek Regional Trail and Bunker Chain of Lakes Regional Trail you are sure to be able to put a lot of miles in on this trail.
Lake Wobegon Trail (Waite Park, MN – Course Map here)
Though the Lake Wobegon Trail has many opportunities to park and get on the trail, the closest starting point is at Rivers Edge Park in Waite Park, MN. This is also one end of the trail, making it a great place to get started. For those looking to see this body of water known as Lake Wobegon, it should be noted that the trail is named after the fictional area from "A Prairie Home Companion," so there is no true Lake Wobegon.
The trail ends in Osakis, MN where it then connects to Central Lakes Trail which in turn connects all the way up to Fergus Falls, MN. In other words, this trail provides a long straight line journey along a smooth paved trail.
North Loop/Jail Trail (St. Cloud, MN – Course Map here)
A popular course among those in the local area, the North Loop (sometimes referred to as the "Jail Trail") is a 4-mile mountain bike trail located near the St. Cloud Jail. The trail is great for anyone who is beginning off-road mountain biking as well as experienced riders in the area looking to do a few loops on a local trail.
Being so close and having easy parking access, this is a great option for any day of the week. Parking at the course is easy and since it is a loop format you will be brought right back to the parking lot when you are done.
Bertram Chain of Lakes (Monticello, MN – Course Map here)
Another area with a wide variety of activities to offer is Bertram Chain of Lakes featuring biking, hiking, swimming, fishing, as well as a number of winter activities. The mountain bike trail comes recommended by Dr. Halstrom who thinks this is a good intermediate course for anyone.
Unlike the St. Cloud trail, however, the Bertram Chain of Lakes trail is over 10 miles long with multiple loops to pick from. The trail is diverse, with each segment varying from the last. Dr. Halstrom points out some segments are old while others have recently been put in.
Where will you go next?
Minnesota is filled with wonderful mountain bike trails – so make the most of your Fall and get out and see the colors this year!