Our Team is Here For You.
The current health crisis has proven to be an uncertain time for all of us. In a time of so much uncertainty, our commitment to our patients remains the same – we're striving to provide a holistic care solution for Minnesotan's. 
We know COVID-19 is not the only health issue facing patients and we will do our part to alleviate stress on the hospital by treating the urgent care visits you have always relied on our clinic for. Williams Integracare continues to provide the medical, chiropractic, and physical therapy care you have come to expect from our clinic. 
Additionally, we have taken steps to prevent the spread of illness in our clinic. In addition to increased cleaning, we are taking temperatures at the door, requiring all staff and patients wear masks, and offering virtual visits. Our goal is to limit sick patients movement through the clinic by leveraging our virtual visits and making the clinic welcoming to patients coming in for wellness visits, chiropractic and physical therapy. 
Starting May 26th, we are requiring patients wear masks in the clinic. Please bring your own mask, but if you do not have one, talk to our staff about getting one! 
WE'RE WORKING TO KEEP YOU SAFE
The safety of our patients and staff is at the top of mind for us at Williams Integracare. In addition to increased cleaning, we have made other changes you will likely notice the next time you are in the clinic. Each patient and staff member entering the clinic has their temperature checked at the entryway. If you present a fever the door attendant will discuss with you next steps, including virtual visits. All Integracare patients and staff are now required to wear masks inside the clinic. This is to protect both patients and employees from the spread of germs. Virtual visits from home are available for many medical and physical therapy patients. Call the office to schedule!
KNOW THE TRUTH BEHIND COMMON MYTHS
MYTH #1: There are drugs or supplements that can treat COVID-19
FACT: While you may have heard news in regard to several drugs currently undergoing clinical studies, there is currently no drug or supplement that can treat COVID-19. We do however recommend you consider supplements as a way to boost your immune system.
OUR RECENT BLOG POSTS ON COVID-19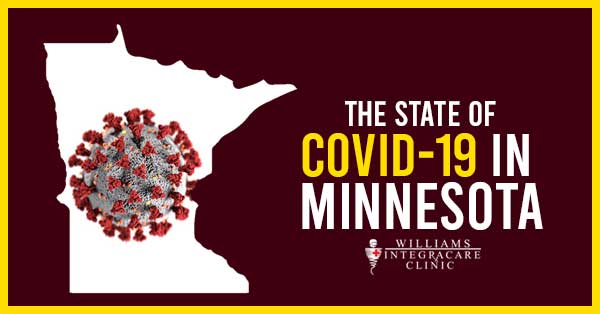 You may have seen the recent article in the New York Times that pinned St. Cloud as the top city in the United States for daily growth rate of COVID-19 cases. The jump in cases in the St. Cloud area each day is increasing at a faster pace than any other city in the country. […]
See all our posts
Copyright 2020, Williams Integracare LTD, All Rights Reserved. Information on this website should not be regarded as medical advice.