You may have seen the recent article in the New York Times that pinned St. Cloud as the top city in the United States for daily growth rate of COVID-19 cases. The jump in cases in the St. Cloud area each day is increasing at a faster pace than any other city in the country.
Some have attributed this to increased testing in our area and thus an increase in confirmed cases while some previous cases may have gone unreported due to a lack of available tests. Regardless with over a month of the stay at home order behind us, it is a great opportunity to look at where Minnesota stands. 
How is testing changing?
In March and much of April testing was very limited with only healthcare workers often being eligible for testing in an effort to conserve tests. More tests have recently become available to Minnesotans with completed tests beginning to surge after April 23rd. 
Prior to April 23rd often only 1,000 to 2,000 tests were completed each day in Minnesota. Since April 30th at least 3,000 tests have been completed each day (with the exception of May 5th). 
Minnesota's cases 
The state's public information map provides details on a county by county basis, with 1,740 cases in Stearns, 138 cases in Benton and 155 cases in Sherburne county with the total number of cases in Minnesota being 16,372 as of the morning of May 18th.
Data from May 18th also shows that in the tri-county area around central Minnesota there have been a total of 2,033 cases or about 12.41% of all cases in Minnesota (down from 14.25% the week prior). 
Are Minnesotans really staying at home?
The data gathered by the Minnesota Department of Transportation tells an interesting story as we are able to see the impact the stay at home order had on travel around Minnesota. 
Travel began to decrease as early as March 14th but the stay at home order did not go into effect until late March, resulting in an even sharper decrease in travel then. For the most part, travel was 30% to 40% lower than normal up until the second half of April when the travel was 20% to 30% lower than normal. 
Why does the stay at home order keep getting extended?
Since starting on March 27th, the Minnesota stay at home order has now been extended until May 18th. Computer models have been created by the University of Minnesota School of Public Health and the Minnesota Department of Health in order to best time when to safely begin reopening businesses. 
According to the model Minnesota released on April 10th, the continued social distancing guidelines will lead to a later peak of cases, hospitalizations, and ICU care. This plays into the strategy of "flattening the curve" or slowing the spread over a longer period of time. While this has created longer stay at home orders, it has helped the hospitals keep pace with the incoming cases. 
A frequent re-evaluation of the model is required in order to find the optimal time to re-open parts of the state. As of May 1st, we currently stand at the dials shown below.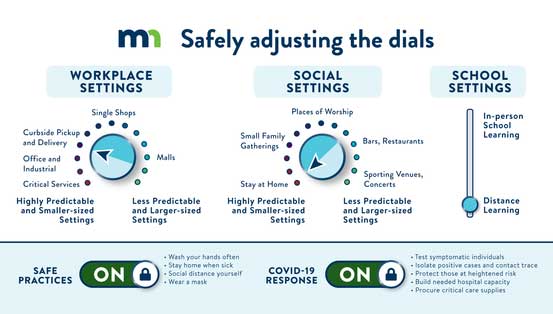 The importance of wearing a mask
As businesses eventually start to re-open it becomes increasingly important to wear a mask in public settings. Some stores in our area have already made this mandatory for entering their stores, and it is possible other stores will follow suit. 
While the masks available to the public are often limited in effectiveness, they do provide benefits vs not wearing a mask at all. These masks largely serve to limit the wearers ability to spread droplets to others while being less effective at actually protecting the wearer. Thus if everyone in a store is wearing a mask, it would limit the spread from one individual to another.
If you have any of the symptoms of COVID-19, contact us at (320) 251-2600 for testing. The state provides up to date information on positive tests, the number of tests complete, freeway traffic, and more on the Minnesota website.