WALK 100 MILES THIS MONTH
We are challenging you to walk 100 miles this month!
Simply walk or run this month towards a goal of 100 total miles (average of 3 to 4 miles per day). Establishing a routine around this level of consistent physical activity can go a long way in improving your overall health. 
Tracking Your Miles is Easy: Many smartphones have built-in pedometers that track your steps/distance using apps that come pre-installed on the phone. There are also smartwatches and other accessories you can use to easily track distance. If you are unfamiliar with this functionality in your phone, try one of the apps shown below.
Remember: You walk around all throughout your day. You may discover that you rack up far more miles than you realize each day by just walking around as a part of your day to day life. Want a bigger challenge? Set a higher goal for yourself, try for 150 or 200 miles if you are feeling up to it!
Each year the Minnesota DNR maintains a map on its website that displays the current Fall colors throughout the state. If you're planning to take a road trip to walk some of the great trails throughout the state, this can be a great tool to plan accordingly. 
We will update the map on our website each Friday throughout October, but you can view the most current colors any day of the week via the DNR website! 
COLOR MAP UPDATED AS OF 9/27
Consider checking out these parks this week!
Mille Lacs Kathio State Park (Onamia, MN) – DNR park info
Charles A. Lindbergh State Park (Little Falls MN) – DNR park info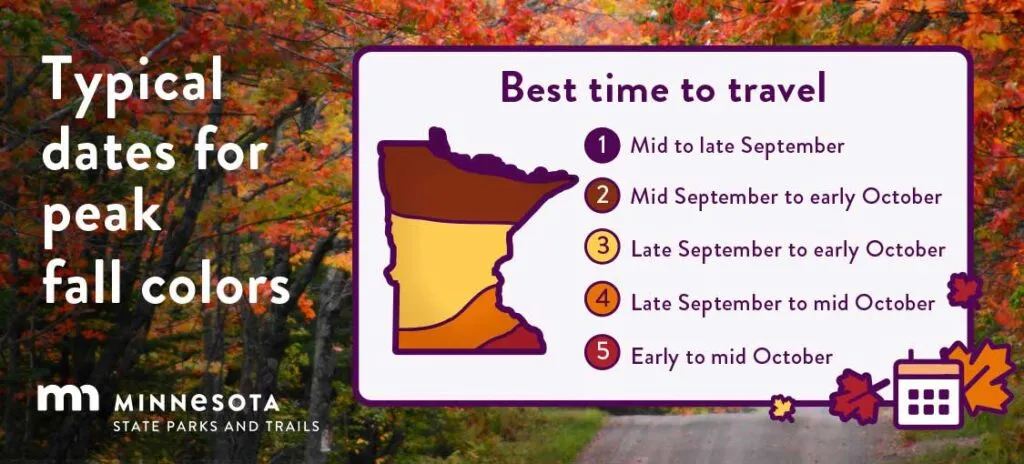 Printing out a paper calendar and putting it on the fridge may seem silly – but it makes your goals more realized. Click to print the calendar below and hang it on your fridge so it serves as a month-long reminder of what you want to achieve.
Use the mileage each day here as a template. If you follow it exactly, you will find yourself at 100 miles by the end of the month. If you need to do a little more or a little less on any given day, feel free to adjust the calendar and move miles to other days as you see fit.  

Copyright 2023, Integracare LTD, All Rights Reserved. Information on this website should not be regarded as medical advice.